Professional Reference List
Our essays professor service guarantees:
authentic writing, quality, and on-time delivery
Save 10% on all orders! We offer 300 words/page instead of
275 words/page as most writing services provide
A reference list is a list of all sources and materials used for paper writing. It is usually placed at the end of the paper to show that the information (either quoted or paraphrased) was taken from them.
A professional reference list is a must for every academic paper. Usually, the instructions require students to use strong evidence to support their positions, researches or ideas. Moreover, the sources must be credible and up-to-date even though, sometimes, the original sources need to be utilized as well. The other important thing about a reference list is that it should be composed first, prior to paper writing. Such writing order is logical because writers look for information first and only then start writing their papers. Even though you know what the assigned topic is, it does not mean that it will be easy to find reliable supporting evidence to provide strong arguments. Very often, looking for sources turns into a problem because some of them are not available in free access, the others are not credible, and some do not meet the academic standards. If you face similar problems while preparing a reference list, use our professional reference list writing services!
Creating a Reference List for Your Paper
Our company hires writing specialists who know how to do research work and look for credible sources. Our writers are specialists in different subjects and they know what sources can be useful for specific topics. If you order a reference list for an essay from us, you get it done based on four main principles of reference list writing.

We use relevant sources.
While some sources may only slightly mention your topic, the others offer readers a deep analysis of the issue. Even though some sources may have necessary keywords, it must be checked in what context these keywords are used and whether they are directly related to the problem under discussion. Sometimes, the information in such sources differs from what is required and it may lead to providing some misleading and confusing evidence. Our writers make sure that the information presented in sources is directly connected to the discussion and support it properly and fully.
We use only reputable sources.
It is true that some assignments are not very strict to the sources used. In such cases, the discussion may be even based on some blogs or Internet websites. Still, most academic papers require using scholarly sources that are reviewed by other scholars. Consequently, when we work with your papers, we select only credible sources from scholarly journals, .org and .edu websites, etc.
Book

The Best TOP Expert

at our service Your order will be assigned to the most experienced writer in the relevant discipline. The highly demanded expert, one of our top-10 writers with the highest rate among the customers.
Hire a Top Writer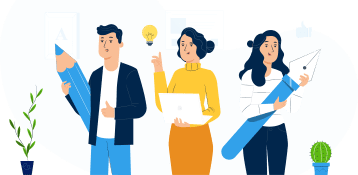 We use only sources that are in free access.
Our writers look for necessary sources using academic databases or college/university libraries. In such way, we make sure that the sources can be easily found and accessed by students. We do not use sources that need to be bought or require any sort of registration.
We work with up-to-date sources.
Our writers look for sources that are not older than 5, in rare cases, 10 years. It helps us create an argument based on the latest updates in a specific field and focus attention on the latest updates.
Professional Assistance
In case you are in need of a professional reference list, you should ask us for assistance. Our professional writers will do their best to create a reference list of high quality that will clearly present all sources used for essay writing.
Moreover, you can provide us with specific information on the type of sources you want to see in your essay. It means you can indicate that you need only American, British or Canadian sources to be used in your paper. In addition, you can indicate what exactly sources need to be used, namely only journal articles, books, your textbook, newspapers or magazines, online websites, websites of different governmental organizations, etc. You are also free to indicate the dates of the sources that are preferable for specific research. You can ask us to use sources that are not older than 3 or 5 years or sources that were published in 2021. This way or another, we will do our best to meet your requirements.
How to Order a Paper?
01.
Fill the order form providing the topic and your requirements.
02.
Make a payment and enjoy our writing process, feel free to chat directly with your writer.
03.
Get a paper within the deadline!
Formatting Your Reference List
It is not a secret that the sources are formatted differently depending on the formatting style required by your professor. If you need an essay reference list in a specific format, you should indicate it while placing your order.
We can work with a wide range of formats starting with the most popular ones and ending with less popular ones. The styles we work with include MLA, Chicago, APA, Turabian, Harvard, IEEE, ASA, Vancouver, AMA, etc. We can provide footnotes on your request where necessary and follow your specific requirements on each paper. Besides, if you need your paper to be completed in a formatting style different from the ones listed above, you should attach a guide on how to do it or send us a link to where we can find it, and we will make sure everything is done, as you want it. In addition, we also work with different editions of formatting styles, so you should indicate what exactly edition you need (e.g., APA 6th or 7th edition).

VIP Services

$2.00
Get Extended Revision

$3.66
Get Order Proofread by Editor

$3.00
Get SMS Notifications

$5.99
PDF Plagiarism Report

$10.95
Get Order Prepared by Top 10 Writers

$11.55
Get VIP Support

$29.72
VIP Services package 20% OFF
20% OFF
Benefits of Ordering from Us
Write my essay reference list! – This simple request can make you one step closer to getting the reference list you need. By choosing our services, you choose professionalism and quality of work. An essay reference list ordered from us will meet the modern writing standards and will be done according to your requirements.
FREE extras
Cover page
Table of contents
Revision (during 48 hours)
Outline (on demand)
Plagiarism report (on demand)
We Guarantee
On-time delivery
Supreme quality products
No hidden charges
24/7 customer support
No-plagiarism guarantee
Working with us is beneficial because you can order a VIP package, which guarantees that you:
Get your paper done earlier than your deadline (you save 20% of time).

Get a free 1-page draft of your paper (NOTE: it is not provided for such assignments as PPTs, multiple-choice questions, rewriting, revision, editing, formatting and proofreading, Excel exercises. It is not provided if the paper ordered is only one page long and the order deadline is shorter than 8 hours).

You are offered an extended revision.

Get one of the top 10 writers and top editor to work on your order.

VIP support.

SMS notifications about your order status.
Order your reference list now and make sure that our services are the best!
Testimonials
Feedback from our satisfied customers